For over fifteen years we have been offering an exciting and adventurous schools program, providing young people with challenging opportunities aimed at developing their educational experience.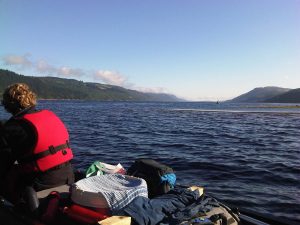 For those looking for a challenging and exciting wilderness experience, NORTHERN XPOSURE offers a range of expeditions in the North of Scotland. With superb transport links to Inverness from throughout the UK, the North of Scotland is incredibly accessible, yet provides some of the UK's greatest wilderness playgrounds.
Under the guidance of our experienced staff, your pupils and staff will be given the opportunity to explore some of Scotland's wildest places.
Whether you want to canoe, climb, walk or cycle NORTHERN XPOSURE can provide a bespoke expedition to suit your requirements.
As a licence holder from the ADVENTURE ACTIVITIES LICENSING SERVICE (AALS) you can be assured that we maintain the highest standard when it comes to our staff and the safety of you and your pupils.
We provide all necessary specialist equipment, food and camping gear all you need is good outdoor clothing, suitable footwear and a sense of adventure.
Send us an e-mail or call us for more information and inspiration
Schools S1 Orientation Programmes
In 2001 NORTHERN XPOSURE started running courses designed for those pupils new to first year. With the aim of helping the children integrate into the new school environment, and learn about each other, whilst their teachers and guidance staff have the opportunity to observe them, we introduce our S1 ORIENTATION PROGRAM.
Based at the Hilton Coylumbridge Hotel in the Cairngorm National Park, the program is run over three days with arrival mid day on day one and departure after lunch on day three.
Designed to allow your staff time to watch their pupils work together, our staff shoulder all the responsibility of the program, leaving them free to watch as their pupils work together at problem solving tasks and challenges.
We have successfully run this program for two of Scotland's largest independent schools who now regard it as an important part of their First Year pupils introduction to their new school.
If you would like more information please get in touch.