First aid training with Mountain First Aid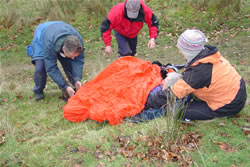 When people talk about First Aid Training, it is often with a belief that a course will be spent sitting in a class room watching gory slides and listening to lots of theory about bandages, plasters and inserting a Bic pen into the throat to make an airway, as well as the usual death by power point!
Nothing could be further from the truth with our  courses which are innovative in their style and delivery.  With not a gory slide in sight, and even less power point, our courses focus on a practical approach to learning.
Whether you lead groups or want to know a bit more of what to do if you come across an accident on your own, Mountain First Aid can deliver courses that are designed to give you the confidence to at least do something.
Using realistic practical scenarios (often based on experiences trainers have dealt with professionally), workshops and modern coaching techniques, the basics of life support and medical emergencies are looked at, as well as accident management, first aid kits and personal emergency equipment.
Courses are run by trainers who are not only experienced in teaching first aid, but are also professionals in pre-hospital and hospital care. Our trainers are all professional outdoor sports coaches who understand the problems faced by those who operate in the remote environment.
Mountain First Aid has over fifteen years experience in teaching first aid to many different audiences from child minders to mountain rescue teams, and is committed to on going development and in house training to ensure that what we teach is current and relevant to our clients.
For more information contact us via the web site or on 01463 790113
See our schedule of activities to pre-book