Situated close to many stunning climbing and walking sites NORTHERN XPOSURE offers the opportunit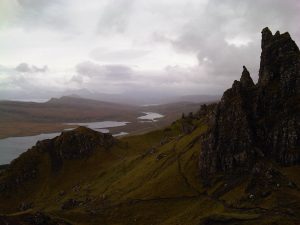 y to try the vertical world of rock climbing or discover the beauty of Scotland's mountains on foot.
Hill walking
Within forty minutes of the Cairngorm National Park, and a one hour from Ben Nevis we can offer a variety of options for those wanting to enjoy Scotlands myriad of high peaks.
Whatever your interest we can provide an experience to suit you. You don't have to be mega fit as we will access routes to suit your ability.
If you want to improve your navigation or just fancy a donder in the hills with pleasant company then give us a call and we can set up an itinerary to suit your needs.
If you don't have walking equipment we can arrange boot hire for you, as well as walking poles for those who want to make life a bit easier.
Why not try a canoe / mountain trip. Access some of our remote mountains by open canoe and discover a unique wilderness experience.
Climbing
Don't believe in the macho image of rock climbing. Whatever your ability or attitude to height, rock climbing is a sport for all. The challenge is whatever you want to make it.
For those who are new to the verticle world, or for those wishing to improve their skills, our instructors will show you the ropes!! (sorry had to get that one in).
Inverness is within a short travel distance of many great rock climbing venues that offer climbs at all levels of difficulty. We offer single pitch and multi pitch courses to suit all abilities.
Our student instructor ratios are kept low to ensure the best experience for our clients.
Just think, with the good local and national transport links now available, you could find yourself in the office one day and on the summit of a remote mountain the next, what more could you ask for?
See our schedule of activities to pre-book